Tyler posted a message of thanks and encouragement for his father and all those who are at the center of the virus, on Instagram.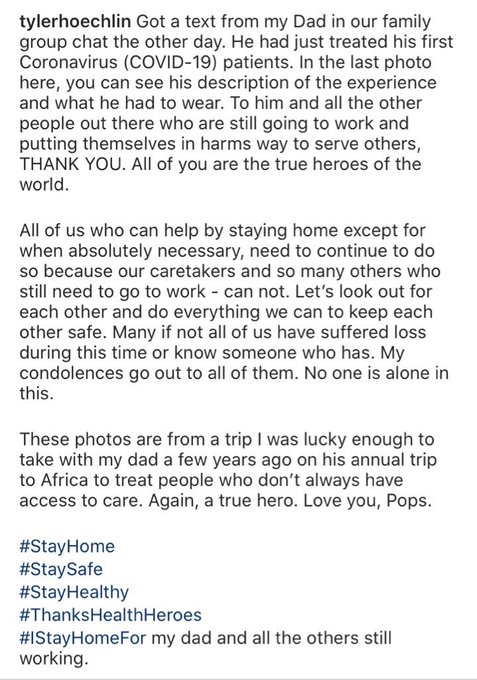 Tyler was at the Laguna Seca, this past weekend.
Tweet : tylerl_hoechlin Had WAY too much fun at Laguna Seca this past weekend. @ianbohen – Bobo I see why you love that place so much. Thank you @jaguarusa and @landroverusa for an awesome and truly unforgettable experience!
Hello, Tyler is filming The Domestics, don't forget to check :
– the Snapchat of Kate Bosworth (User: BosworthKate) to follow the shoot with Tyler.
– the Snapchat of Jen (User: Jsulkess) Assistant of Kate (she posts a lot of video).
And of course, the instagram of Tyler.
You can catch up the videos from Snapchat with my partner : Daily Tyler Hoechlin TUMBLR.
Hello, the first Photos Stills from "Everybody Wants Some" are appeared, Tyler and the cast were yesterday at the first watching of the movie. Are you ready guys? I am !!

You can find +02 photos stills from "Melvin Smarty" on the gallery. (thanks you Wolfspirals).

And, 3 actors from the cast of "Everybody Wants some", have posted some photos on instagram with Tyler :

Yesterday, Tyler and Brittany Snow were at the JED Foundation Gala, i have 04 photos from instagram for now. (Hope more soon). (Credit : Lanes0220 & Courtknows).

Hi! I've added more HQ from recents events in the gallery. And some new pictures from instagram.




Tyler just posted on Twitter & Instagram for Love Is Louder.